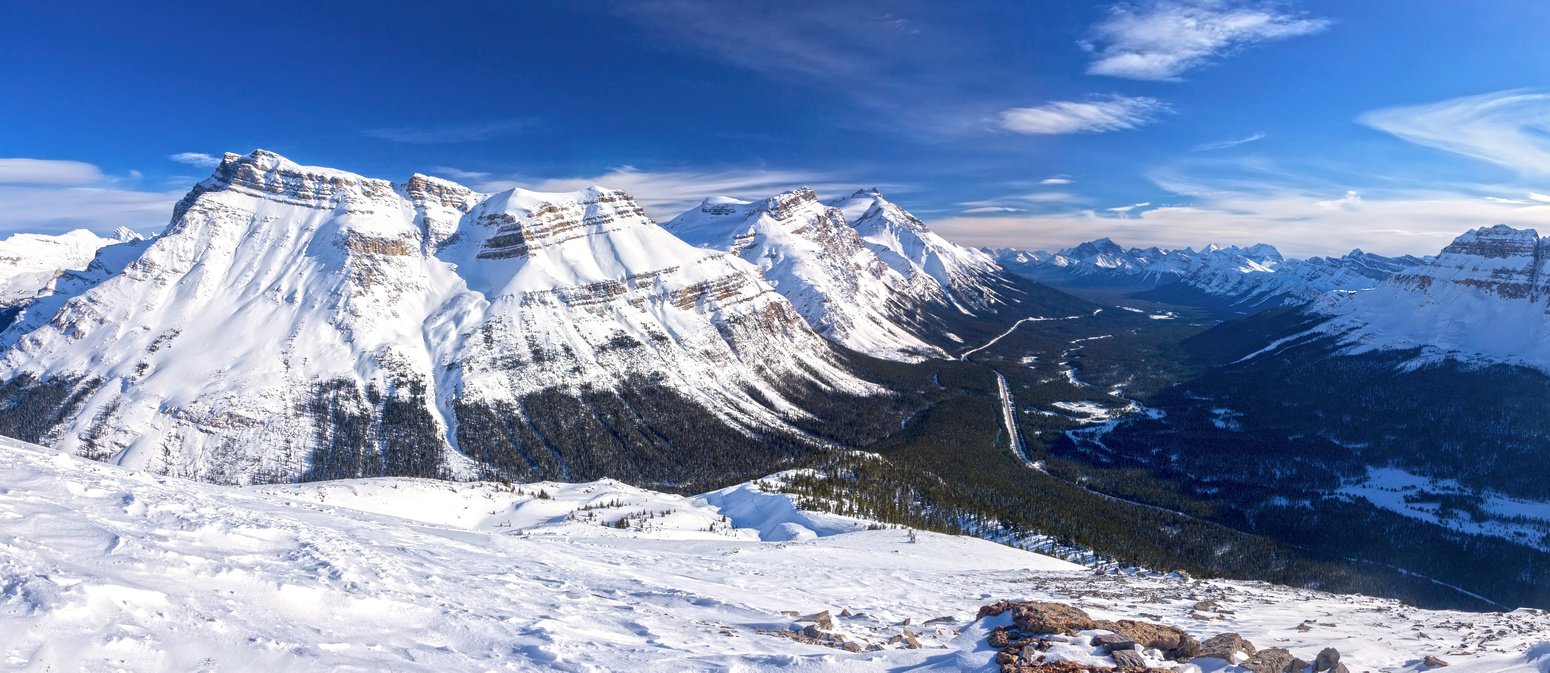 Icefields Corridor from upper slopes of Dolomite Shoulder. Noseeum Peak left, Andromache and Hector behind
Trip Summary
February 18, 2021
"Dolomite Shoulder" is unofficial name for first highpoint of long ridge extending over several Dolomite Towers, normally scrambled from west side via Kane route. It is visible as one drives past Mosquito Creek ~20min north of Lake Louise. It has largely stayed off radar; I learned of it from pretty good "Confessions of a Ski Bum" ski site. Judging by tracks it is frequently done on skis in winter, but it is also feasible as moderate snowshoe. Approach utilizes popular Dolomite Highline route. Snow conditions must be stable as steep subalpine slope can be dangerous if avalanche rating is high. Views are nothing short of fabulous, including bird eye view of rugged alpine basin between Dolomite Towers and unofficially named "Oxo" peak. Final bit is steep with brief exposed traverse and should be booted up. Trip is likely completely ignored in summer, probably because of many better known nearby objectives, but it might be well worth the effort.
Parking is few minutes north of Mosquito creek trailhead. There is no official parking lot, but there will usually be several cars at west shoulder of Icefields Parkway, even on a weekday. Carrying gear and crossing steep snow bank on west side of the road might as well be crux of the trip. Follow ski highway moderately rising through forest for ~40 minutes then look for tracks branching left (west) as grade levels off. Wooded slope climbs to subalpine and this is the tricky bit; use caution as grade is steep and presents considerable avalanche danger. Clearing at top is logical spot for first break; everything that follows is pure joy. Moderately angled slopes that follow can be tackled anywhere. Upon reaching final summit block take snowshoes or skis off, then scramble up steep snow on foot. Rounded "summit" area is wide enough for comfortable break and if not windy it will be hard to peel yourself off! In summer it might be possible to follow rotten ridge to base of south Dolomite Tower. Return the same way, again taking care descending that steep subalpine slope down to Dolomite Ski Highway.
Gallery
Trailhead Parking
Car lined up at west shoulder of Icefields Parkway, ~1km north from Mosquito Creek. Hopping over snow pile is fairly awkward. Bow Peak behind
Subalpine View
Base of steep subalpine slope, looking back to
Noseeum Peak
Pine Clearing
Looking south down the Icefields corridor at start of Dolomite shoulder ascent ridge. This is logical spot for first break
Alpine Snowshoeing
Well broken snowshoe track with many ski tracks leading up gentle slope towards Dolomite Shoulder "summit"
Alpine Skiing
This photo probably illustrates how much the area is popular in winter
Crisscrossing Tracks
Many ski/snowshoe tracks crisscrossing on moderately angled ascent slopes

Mosquito Panorama
Higher up looking back towards Mosquito area
Approaching the summit block. Tracks converge below final steep part. Click to Zoom
Summit Slope
Looking down steep summit slope; considerably steeper than this photo suggests. Skis and snowshoes should be left below and this part ascended on foot
Sketchy Traverse
Final moderately exposed - but brief - traverse. Summit is in sight. Ice Axe is asset here
Summit View South
Summit view south with Noseeum Peak upper right; Andromache and Hector behind, just left of center
Closer look at Andromache (C) and Hector (R). Click to Zoom
Dolomite Basin
Panoramic view north from the "summit". Dolomite Towers left, Dolomite NE 1 spire roughly center; "Oxo" peak behind. Snowy bowl below is often skied as part of well known Dolomite Highline Circuit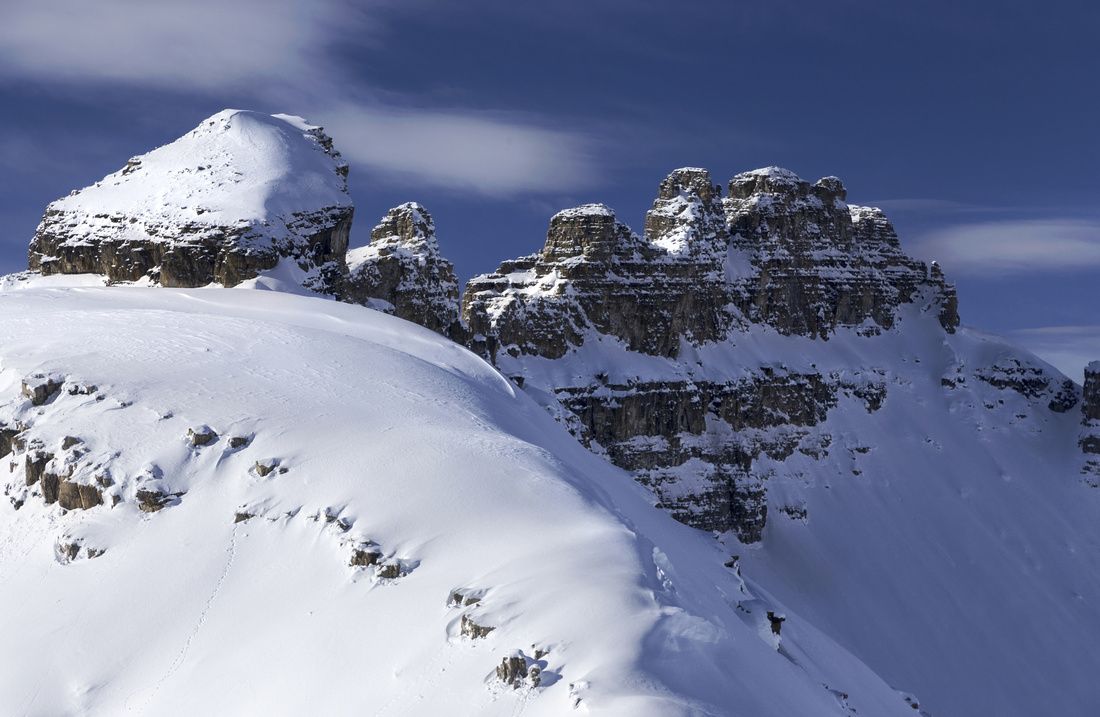 Dolomite Towers
Closer Look at Dolomite Towers; normal Kane ascent route is from the other side. It might be possible to traverse rotten ridge for awhile, but I doubt scramble would be feasible from this side
Closer look at unofficially named "Oxo" peak. It has been scrambled, but easiest ascent gully (roughly just left of center) is very lose and dangerous; it can not be recommended. Click to Zoom
Willingdon and Crown in Siffleur Wilderness behind lower slopes of Oxo Peak. Myriad of ski tracks in foreground testify this would be good snowshoe trip. Click to Zoom
Telephoto south-east towards Molar Pass area. Cataract Peak roughly center, Deluc peak to its left. Extreme left are Snort / Bleat in Roaring Creek area. Click to Zoom
Noseeum Peak
Descending towards subalpine on return in gorgeous late afternoon light. Noseeum Peak behind
Overall Difficulty

Mostly steep hiking with final steep part and brief exposed traverse. Normally done on skis in winter, but feasible as snowshoe ascent. Likely bushwhack in lower part + scree slog in summer

Snow Factor

Steep subalpine slopes present considerable avalanche danger; trip should not be attempted if rating is not low

Scenery

Fabulous views of Icefields corridor including Noseeum Peak, Mt. Andromache, Hector and many others. Mosquito / Molar area and several peaks in Siffleur wilderness. Aerial view of glacial bowl east of Dolomite Peak, part of Dolomite Highline ski traverse (also hiked in summer)

Trail/Marking

None

Normally well beaten ski tracks in winter. Use GPS track (download link top of page) for best place to leave Dolomite Traverse route and head west to subalpine.

Suggested Time

5-6 hr

Moderate pace in winter conditions with supportive snow / broken tracks. Estimate 5 hrs in summer (return)

Elevation

Start: 1900 m Max: 2715m Total: ~820m

Round Trip: ~9 km

Gear

Snowshoes or skis. Micro-spikes suggested for final slope. Ice Axe might provide peace of mind for final traverse. Standard hiking gear in summer

Water

Snow melt. Carry 1L in winter

Dog Friendly

No

Likely not a good candidate to bring dog in winter. Standard back-country precautions in summer