Looking across snow covered Hector Lake from west side; Noseeum Peak and Andromache left, Hector to the right
Trip Summary
March 4, 2021
Hector Lake is major body of water on west side of Icefields Parkway as one drives north of Lake Louise. If is often overlooked in favor of longer and more popular objectives on east side (Hector, Andromache, etc.) Short trail leads to official Parks campground at east side of the lake; it can be reached in less than an hour. Exploring further is possible, but much more involved as crossing of multiple channels of Bow River at Hector outlet is difficult task. This is main reason why west side of the lake is much more often visited in winter.
Parking is at small pullout on west side of Icefields Parkway, ~18km north of Trans-Canada Highway (N51 34.800 W116 18.560). It will be before signed tourist viewpoint, so if you reach that one coming from Lake Louise, you have gone too far. It is particularly tricky to locate in winter as snow banks completely obscure the pullout. Watch for cars parked on shoulder. Follow the trail for ~20min to crossing of Bow River (sign). This crossing can be impassable during high water and is best left for second half of the summer. Gentle meandering trail reaches back-country campground in another 15min; roughly 2.4km from the road.
If planning excursion to west side of the lake in summer conditions couple of options exist. Hauling canoe or inflatable raft is one, but should be tried only if weather is not calm. On foot hikers have often utilized log jam (might not be there anymore!) not far from Hector Lake outlet; it is still tricky with water reaching mid-thigh level. Once on the west side marginal trail exists to Lake Margaret drainage; this route is sometimes used for technical scramble of Pulpit Peak. Other option that includes moderate bushwhack is hike to "Pulpit Tarns"; this route can also be used as access to Pulpit Peak but despite being technically less difficult, involves much trashing on boulders and steep talus slopes. See here for more details. In winter most frequent option is "Little Pulpit" (see bottom of this page), or crossing of frozen Hector Lake to flats on east side under Mt. Balfour, and ascent of "BowCrow" peak (very long day).
Gallery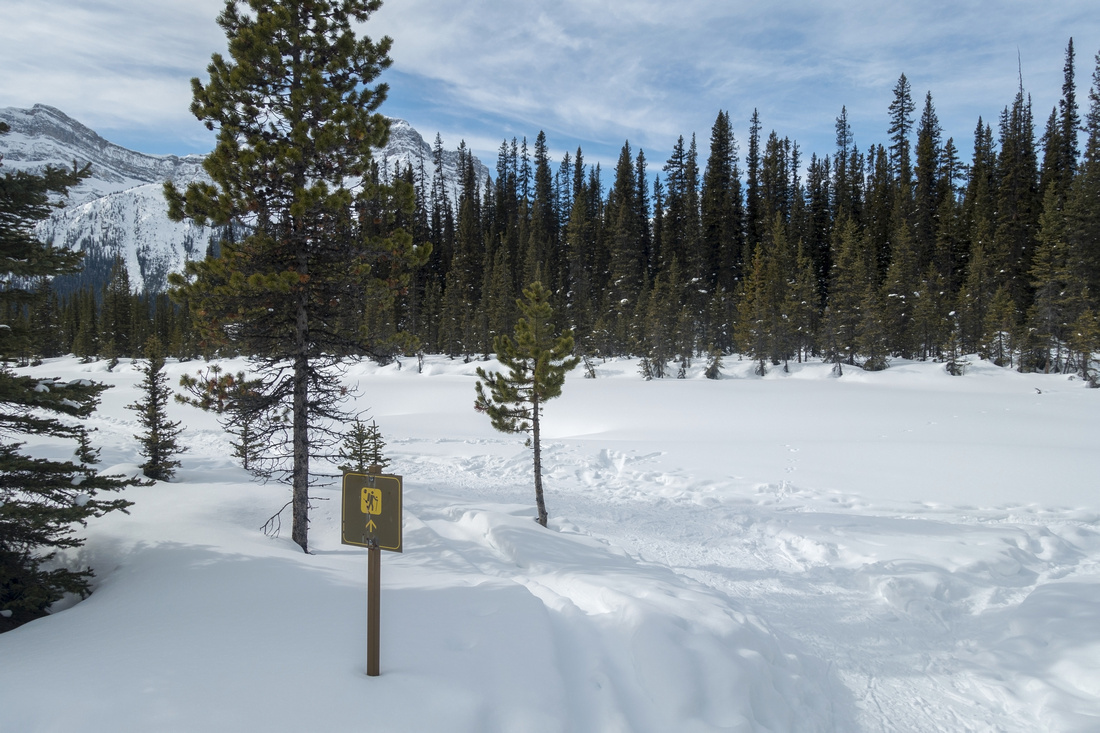 Campground Junction
Reaching Bow River 15-20 min from the Icefields. Summer trail fords the river (note hiker sign) and heads to campground. Winter ski/snowshoe track usually heads to the left towards Hector Lake outlet
Snowshoeing Paradise
Snowshoeing on left side of Bow River towards Hector Lake outlet; Pulpit peak upper left
Andromache and Hector
Looking back towards Mt. Andromache (left) and aesthetic Little Hector ridge to the right
Nearing Hector Lake outlet in pure winter wonderland. Pulpit peak just right of center, "Little Pulpit" is below. Click to Zoom
Hector Panorama
Panoramic view across Hector Lake from south side. Bow Peak just right of center, "BowCrow" (reached from Balfour flats at far side of the lake) to its left. Pulpit extreme left
Igloo
Someone built an igloo at Hector Lake outlet
Trail Breaking
Breaking trail on west side of Hector Lake towards Lake Margaret drainage
Mount Hector Telephoto from west side of the lake, with avalanche debris from controlled release visible on lower slopes. Click to Zoom
Sunset Alpenglow
Setting sun reflected of Mt. Hector and Mt. Andromache from west side of the lake
Abstract
Overall Difficulty

Short hike on established trail to Hector Lake campground with tricky river ford in summer. Easy/moderate snowshoe in winter with several extensions of varied difficulty

Snow Factor

No avalanche danger to the lake. Easy lake crossing with favorable snow conditions. Continuing to "Little Pulpit" at west side involves crossing steep and avalanche prone slopes.

Scenery

Large back-country lake. Icefields corridor including Noseeum Peak, Mt. Andromache, Hector, Pulpit Peak, Mount Balfour, Bow Peak and several others.

Trail/Marking

Very good / none

Official Parks Trail to Hector campground with marked junctions. Occasionally cairned and flagged routes at west side of the lake. Finding trailhead might be tricky, specially in winter

Suggested Time

Varies

Hector Lake campground can be reached in less than an hour. 5-6 hrs return for "Little Pulpit" or Pulpit Tarns in winter. Very long day for crossing of entire lake to Balfour Flats or ski ascent of "BowCrow" peak

Elevation

Start: 1660 m Max: 1700m Total: ~50m (Hector campground)

Round Trip: ~5 km (Hector campground)

Gear

Variety of gear depending on objective and season. Sandals for Bow River ford, inflatable raft / canoe if planning on paddle across Hector Lake. Skis/snowshoes in winter

Water

Bow River and Hector Lake. Plenty of water sources in back-country; No need to carry more than 1L regardless of season

Dog Friendly

No

Tricky river fords in summer. Winter snowshoe/ski just to the lake might be ok
Little Pulpit and/or Pulpit Tarns
Great winter ski/snowshoe objective, providing that crossing of Hector Lake poses no problems. At Bow River crossing (1st pic in gallery) turn left and follow usually well defined track for another ~20 min to south end of Hector Lake. Little Pulpit is rounded knob directly ahead. After crossing the lake ascend where you please; usually ski track that zig-zags forested slopes can be found. Higher up slope steepens up and poses significant avalanche danger. Upon reaching the cirque above Pulpit Tarns ascend right side to the top with awesome aerial views of Hector Lake, while Mt. Pulpit towers above.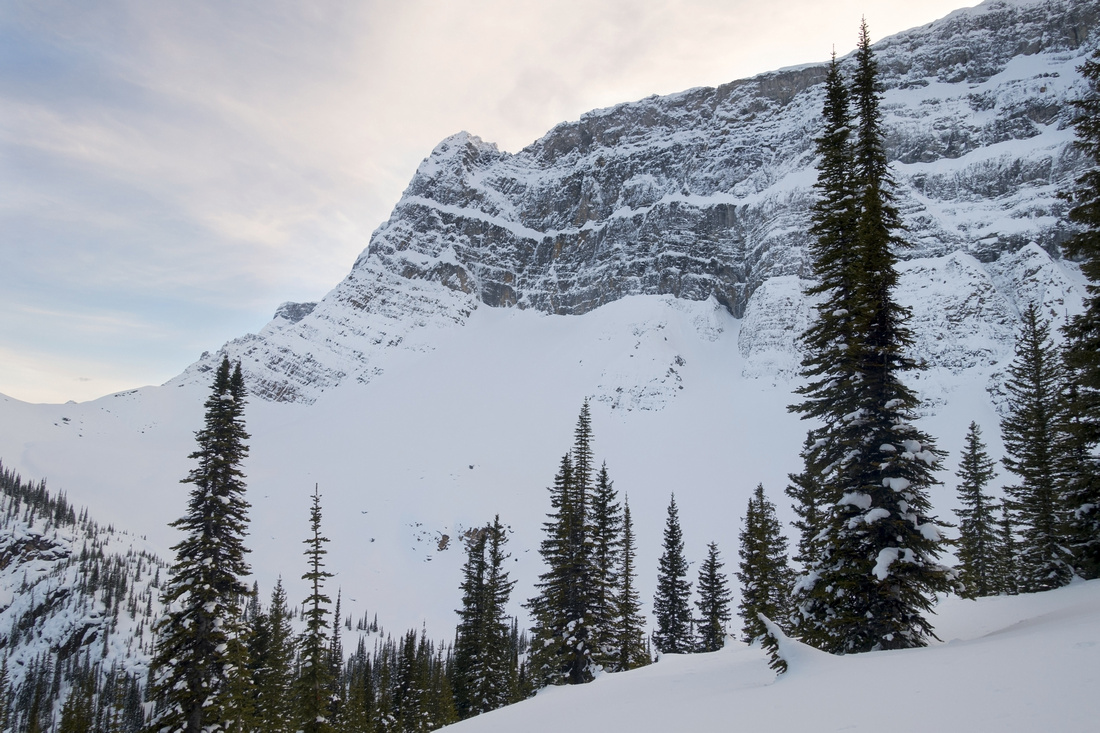 Pulpit Bowl
Rougly 14km return with ~600 m vertical for Little Pulpit, 6 hrs return from Icefields Parkway. See here for detail ski report