Classic view of Helen Lake with Cirque Peak in background. Dolomite Pass upper right
Trip Summary
September 9, 2020
Cirque Peak is perfect hiker's peak. Situated in prime alpine area of Dolomite Pass, ascent is just a steep hike above popular Helen Lake. Summit views are nothing short of spectacular and include many distant peaks of Icefields corridor and Siffleur wilderness in eastern BNP.
Helen lake trailhead parking is on east side of Icefields Parkway some 25min north of Lake Louise, directly opposite Crowfoot glacier tourist pull-out. This popular trail gradually climbs forested slopes of unofficially named "Crystal Ridge", then turns north after rounding shoulder at south end of the ridge. Views of Dolomite Peak and Mt. Hector / Andromache on SE side are spectacular. Trail heads north and after crossing Helen lake outlet creek (rock-hop) traverses gorgeous alpine meadow before the lake; ~6km and 1.5hrs from trailhead. Switchbacks continue on right side of the lake to Dolomite Pass. At the pass leave trail by large cairn and head towards Cirque peak, passing unexpected (and very beautiful) alpine tarn tucked in shallow rocky amphitheater. There are 2 options: Trail with cairns ascends the low end of talus slope left of the tarn, but it is also possible to continue more directly on the right side climbing red dirt, then intersect ascent slopes higher up. Stubborn cornice persists most of the year and needs to be circumvented in this case. Beaten talus trails continue above. Final ~150m vertical are bit lose; hiking poles are great help. There is bit of rock guarding lower south summit (class 2), but one can also skirt this on climber right reducing effort to simple hiking. From the notch between two summits scramble easily to north bump which is true summit that sometimes has register. Views are spectacular although summit area is fairly narrow and space might not be easy to find as peak is popular. Return the same way; if time allows it is worth exploring spectacular Dolomite Pass a bit more, perhaps dropping to beautiful Katherine Lake on east side.
In winter Dolomite pass is often visited on skis; with stable snow, Cirque peak can be skied as well. It has also been included in Nugara guide, although snowshoeing ascent will require considerably longer time. Summer conditions are preferred, but solitude might be hard to find.
Gallery
Helen Lake Trail
View south from clearing on Helen lake trail. Bow Peak upper right, Mt. Hector and Mt. Andromache left
Helen Lake Trail
View towards Dolomite Pass as trail rounds the shoulder below "Crystal Ridge". Rugged towers of Dolomite Peak right, distant Cirque Peak left
Helen Lake Trail
Alpine Meadows approaching Helen Lake. Cirque Peak above
Hector and Andromache
View south from Helen alpine meadows. Glaciated Mt. Hector center right, Mt. Andromache left
Helen Lake and Cirque Peak
Classic view of Helen Lake ~6km and 1.5 hrs from trailhead. Cirque Peak above. Trail continues on right side and climbs Dolomite Pass
Cirque Ascent Slope
Cirque Peak ascent slopes, as easy as it looks. ~1.5 hrs from Helen Lake. Both summits can be seen upper center. Note stubborn cornice just left of center

Looking back to Helen Lake right, and Dolomite Pass just left of center. Crowfoot glacier upper right behind "Crystal Ridge". Click to Zoom
Cirque Summit
True summit from lower south summit; just a hike despite appearance. Good trail bypasses lower summit on east side directly to notch lower right
Notch below Cirque Summit
Steep talus gully dropping to permanent Icefield on west side from the notch between two summits
Beautiful Panorama SE from Cirque Peak. Dolomite Pass center right. Click to Zoom
Telephoto east towards large boulder slope above Alice lake (hidden by low ridge in foreground). Bobac peak left, Watermelon right just out of picture. Willingdon / Crown above Devon Lakes in Siffleur Wilderness behind. Click to Zoom
Many distant peaks in Siffleur Wilderness including Quill (just left of center) and Conical in front. Valley lower right is north leg of classic Dolomite Circuit backpack. Click to Zoom
Dolomite Pass Panorama
Beautiful Dolomite Pass tarn on return. Would be a good bivi spot
Dolomite Peak Reflection
Perfect symmetry in Nature. Dolomite Peak reflected in Dolomite Pass Tarn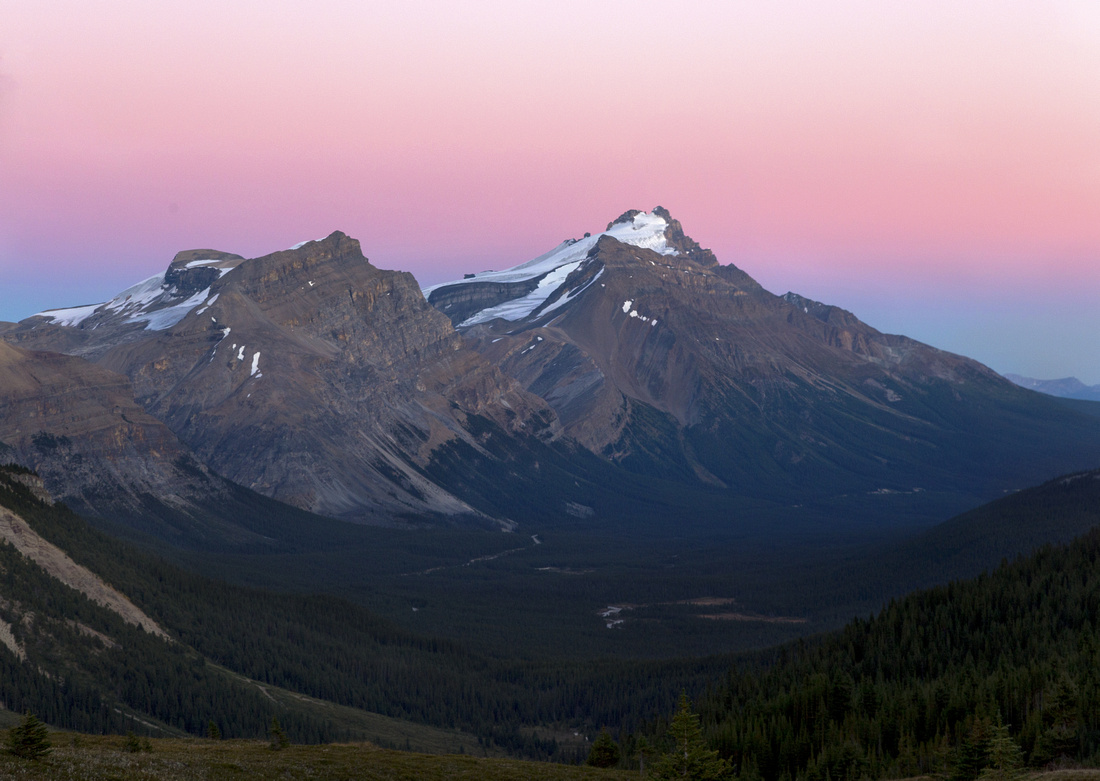 Hector/Andromache Alpenglow
Alpenglow behind glaciated Mt. Hector and Mt. Andromache on return, accented by haze from distant BC wildfires
Overall Difficulty

Mostly steep hiking with lose talus section in upper part. Mild exposure crossing the notch below true summit

Snow Factor

Sometimes done as ski or snowshoe trip. Snow on moderately steep slopes above Helen Lake must be stable (avalanche danger).

Scenery

Classic high Rockies alpine lake and meadows. Alpine tundra of Dolomite Pass. Wapta Icefield and Bow lake area peaks. Distant summits in eastern BNP, including Willingdon / Crown, Recondite, Quill and many more

Trail/Marking

Very Good

Official, wide and well defined park trail to Helen Lake / Dolomite Pass. Talus trails above with cairns. Way is obvious

Suggested Time

7 hr

Add an hour if spending some time exploring Dolomite Pass or dropping to Katherine Lake

Elevation

Start: 1960 m Max: 2970m Total: ~1080m

Round Trip: ~17km

Gear

Full hiking boots, gaiters and poles recommended, although many people climb the summit with light hiking shoes only

Water

Creek draining Helen Lake and Tarns on Dolomite Pass. Carry at least 1L above Dolomite Pass

Dog Friendly

Yes

Helen Lake trail is very popular; please keep dog on leash for courtesy to other hikers. Standard back-country precautions; grizzly bears have been encountered at Helen Lake meadows