Red Deer River flats between SK19 campground and Pipestone trail junction. Oyster Peak right, snowcapped Mt. Douglas center distance
Trip Summary
September 5-7, 2018
Overnight trip into Red Deer lakes area of Skoki back-country. Quickest approach to SK19 campground is via Deception pass. Scenic option favored by most hikers is via Packer Pass / Skoki Lakes, while the longest but probably most rewarding is via Cottongrass Meadows, with probable intermediary overnight at Baker Lake (SK11).
From SK19 trail crosses the marsh for ~1km to signed Pipestone - Red Deer River junction. Turn right and follow Red Deer River trail downstream. This trail is one of beautiful remote wilderness trails of Banff National Park eventually ending at Cascade Fireroad -- possible loop ending at Lake Minnewanka! Cyclone Ranger cabin is reached shortly, situated in beautiful meadow, with grand views from the porch - BNP Rangers know how to live! Beyond the cabin trail is mostly below tree cover and often muddy. Continue past Horse camp junction to marked Natural Bridge turnoff - about 30 mins from the cabin (see Gallery) and turn right. Couple of easy fords are necessary in order to reach scenic highlight - Natural Bridge Rock arch and one of most beautiful waterfalls I have seen in Banff NP. Trail continues past the waterfall and leads into secluded alpine valley tucked between Oyster Peak (W) and Mt. Douglas (E) providing normal approach for ascent of Mt. Douglas. Some parties bivi in these meadows before launching the summit bid the next morning. (In)famous notch on Mt. Saint Bride can be readily studied from here too. Return to SK19 is the same way.
On hike out back to Skoki trailhead it is possible to go either way of Skoki Mountain. Continuing on Pipestone trail and looping on west side is longer, but allows for visit to largest Red Deer Lake. Merlin Meadows (SK18) are passed by 1km before Skoki lodge, providing alternate overnight stop, for possible day-hike to Merlin Lake.
Gallery
Red Deer Lakes campground (SK19). No designated tent pads, but plenty of soft spots at edge of River flats. Standard bear hang, clean outhouse, very nice eating area as well as creek with flowing water make this one of more enjoyable back-country camp sites
View of Pipestone Mountain while crossing the flats towards Red Deer River trail junction
Cyclone Ranger Cabin. Mt. Douglas distance center, St. Bride to its right
St. Douglas (3235m) telephoto. Mostly a hard scramble with route-finding. Main difficulty are crumbling rock bands clearly seen in middle part. Very good report is here. Note that this party approached from Baker Lake& this was quite roundabout & can not be recommended -- even by their own admission.
Natural Bridge junction, ~2km south of Cyclone Ranger cabin, that provides easy access to beautiful alpine valley between Oyster Peak and Mt. Douglas.
Hiking on soft moss after Red Deer River crossing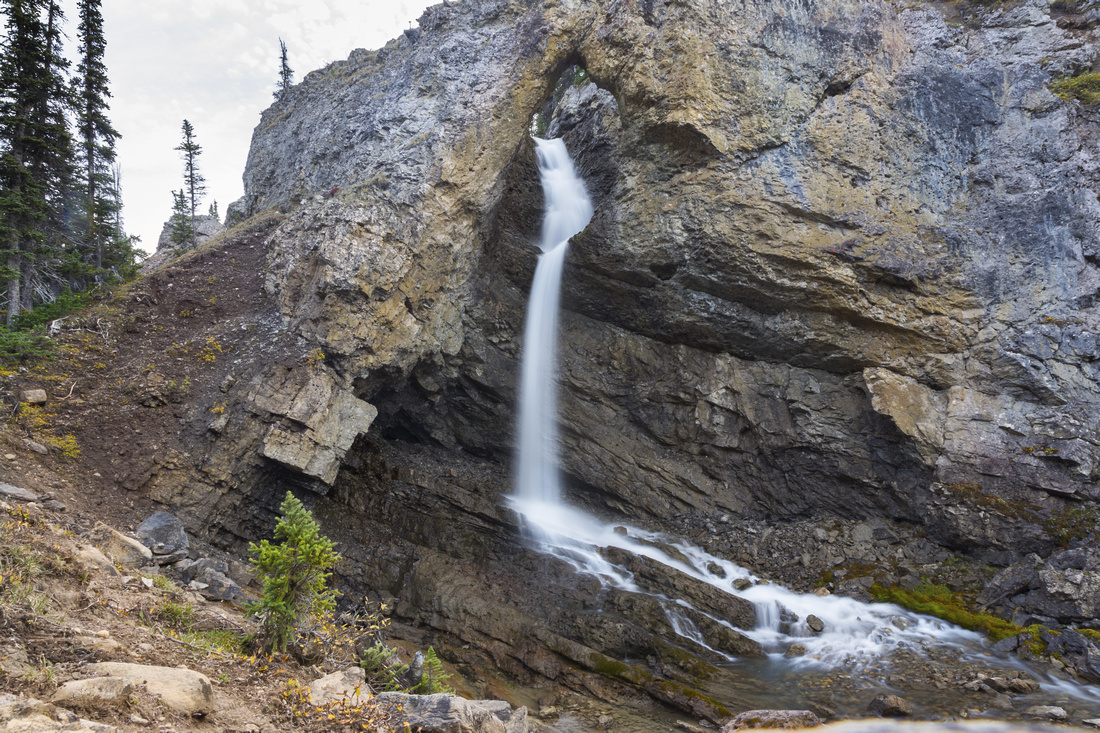 Natural Bridge, ~2.5km from Red Deer River trail junction. Good trail continues on the left side.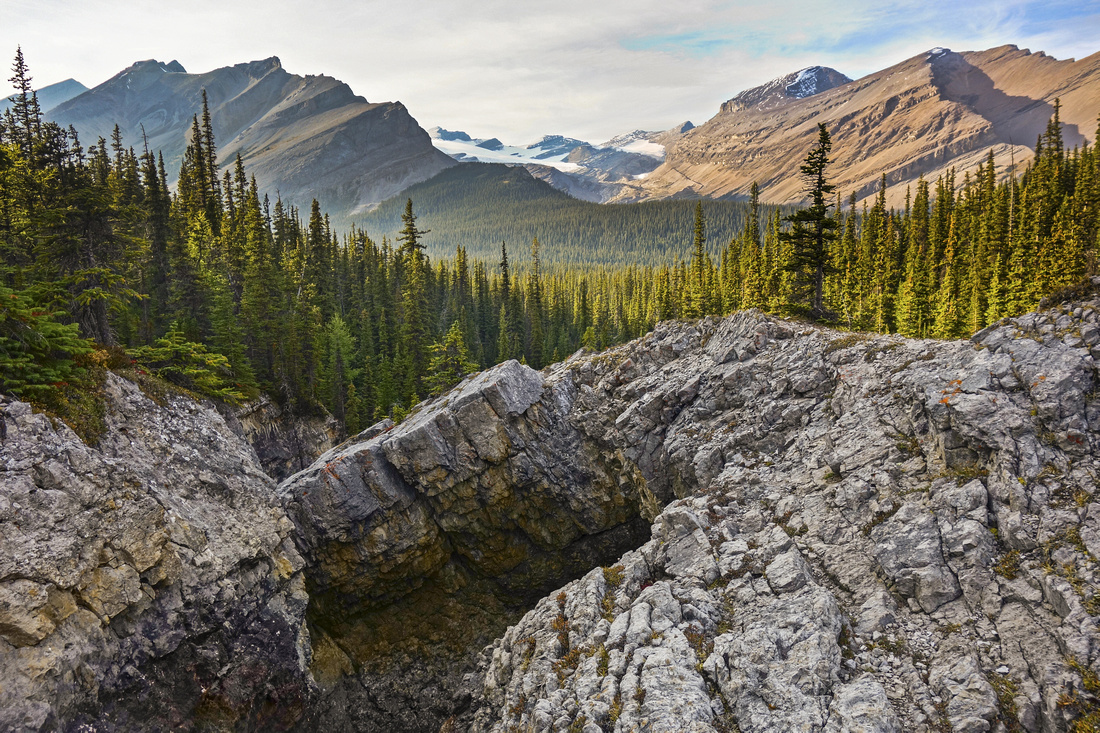 View back from top of Natural Bridge. Distant Drummond glacier just left of center. Mt. Drummond ascent report here
Alpine valley above the Natural Bridge. Mt. Saint-Bride, one of most difficult Rockies peaks, upper left.
Saint Bride telephoto. Obvious notch is chief difficulty that puts the climb into technical rock-climbing realm (5.10 YDS)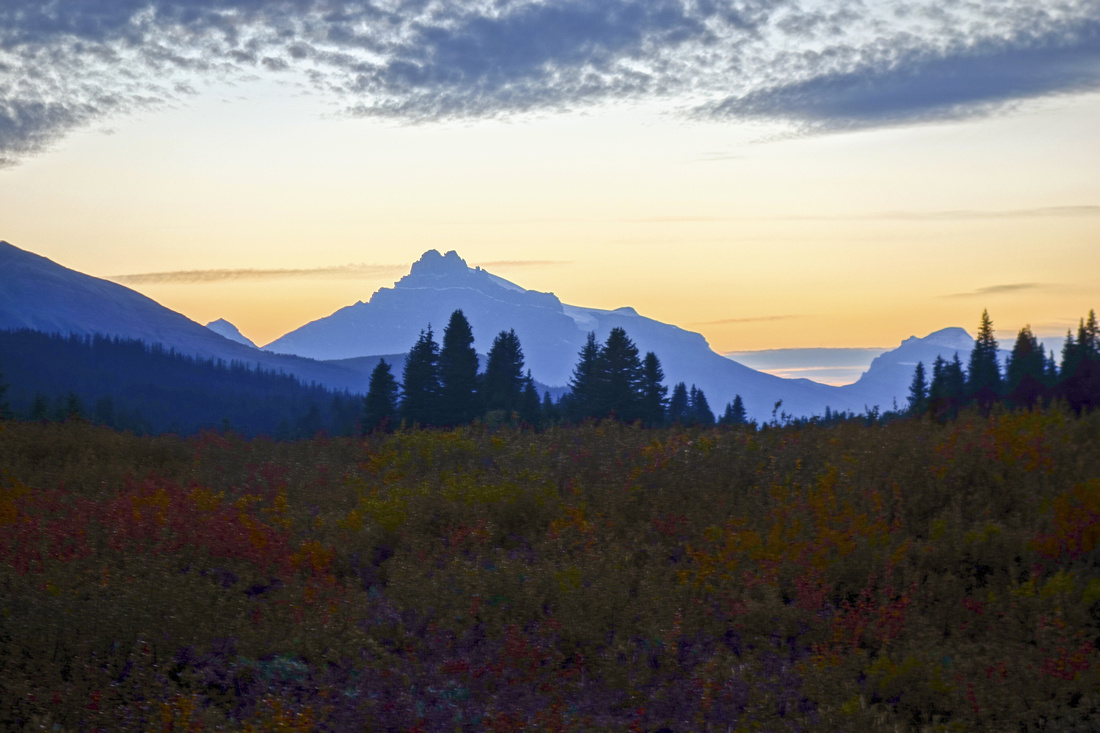 Distant Molar Mtn and Andromache from River Flats on return to SK19
Largest Red Deer lake as smoke from forest fires has blanketed the area overnight
Abstract
(SK19 campground to Natural Bridge)
Overall Difficulty
D3

Signed trail hiking. Couple of unbridged creek crossings - ankle high late in summer

Snow Factor
S2

Overall remoteness of the area make this unlikely winter trip candidate. Overnight at commercial (and expensive) Skoki Lodge with day cross-country / snowshoe trip is most reasonable option

Scenery

Remote wilderness in eastern parts of Banff National Park. 3 lakes and not often seen big peaks. Natural Bridge Rock Arch

Trail/Marking

Very Good

Official signed Parks Canada Trail (shared with horses). All junctions are marked.

Suggested Time

4-5 hrs

Return time from SK19 campground to Natural Bridge. Many options for further exploration.

Elevation

Start: 2100m Max: 2200 m Total: ~300 m

Round Trip: 8-9 km

Gear

Standard overnight gear. Full hiking boots preferred to light hikers. Gaiters helpful for creek fords

Water

Red Deer River channels and several side creeks. Carry no more than 0.5L

Dog Friendly

No

Remote back-country - prime grizzly bear area. Dogs not recommended