"Million dollar view" from summit of Smutwood Peak. Striking NW ridge of Mt. Birdwood upper left, Birdwood Tarns below. Smuts Pass far bottom left. Sir Douglas just right of upper center in the distance, Snow peak to its right
Trip Summary
September 13, 2016
Mt. Smutwood is unofficially named high point of long ridge just west of Smuts Pass. Coined by Andrew Nugara (Smuts + Birdwood = "Smutwood") and popularized in his most excellent "More Scrambles in the Canadian Rockies" guidebook, it is a fantastic easy ascent in beautiful Smuts Pass environs. Summit view is simply breathtaking and easily one of the best in K-country. With 2 vehicles it is possible to extend the day and do a loop return via Birdwood/Burstall Pass. For less energetic, even just the hike to Smuts Pass is well worth the effort. Highly recommended!
Follow Mt. Shark access road past Mt. Engadine lodge turnoff across the bridge, then at first switchback turn left into logging road - parking area is few meters away. Hike this logging road passing Tryst Lake turnoff in about 20 minutes, then when the road splits take right branch heading towards Commonwealth creek. Road soon turns into trail and descends to the creek. First highlight is here -- twin falls (did you bring the tripod?). Past the falls rooty and occasionally muddy trail hikes on right side of the creek to head of long valley sandwiched between Fist/Smuts to the right and Commonwealth Peak/Pigs Tail/Mt. Birdwood to the left. Smuts pass is the notch on the horizon and appears far away at this point. Good trail continues on the right side of the valley and reaches base of headwall below the pass in 45 mins to an hour. Ascent to the pass is steep and lower part of the trail is a bit eroded - caution needed on descent. Trail splits on the bench dotted with larches halfway up; going left across the scree is faster, but if you continue straight it is actually more beautiful - make your pick. Both routes converge just below Smuts Pass. This is where scramblers heading for Mt. Smuts would leave the trail and ascend scree cone to the right. It looks quite scary just looking from below, and hard to believe it is a scramble. Most parties that ascended Mt. Smuts over the years agree it is low class 5 and really a technical climb.
Lovely panorama unfolds at the pass, with Smutwood ascent ridge directly across. Lower Birdwood tarn is below and it is worth losing a bit of elevation to visit it. Hike up to upper tarn noting lovely waterfall separating the two, then up grassy slope to start of the ascent ridge. Alternatively scree trail on the left side bypasses the tarns and is more direct; leave it for the return perhaps. The ridge is as easy as it appears and faint trail can be found most of the way. There are couple of rock bands but all are very easy and barely call for use of hands (class 2). False summit is usually bypassed on the left side, but you can also go directly over. Final part of the ridge is a bit loose; as usual, it is best to stay as close to the crest as possible, and leave scree trails for descent. It takes about an hour from upper tarn to the summit.
Gallery
Commonwealth Creek Falls. Trail continues on the right side
Entering Commonwealth Creek valley 15 min past the waterfall. Smuts Pass in the distance
Views back to Mt. Chester
Avalanche slope in mid valley. Smuts left, First right
Smuts Pass alpine environs. Birdwood NW ridge upper right
Mt. Smuts ascent route - hardest Kane scramble
Length of Commonwealth creek valley from Smuts Pass
Smutwood ridge and lower Birdwood Tarn from Smuts Pass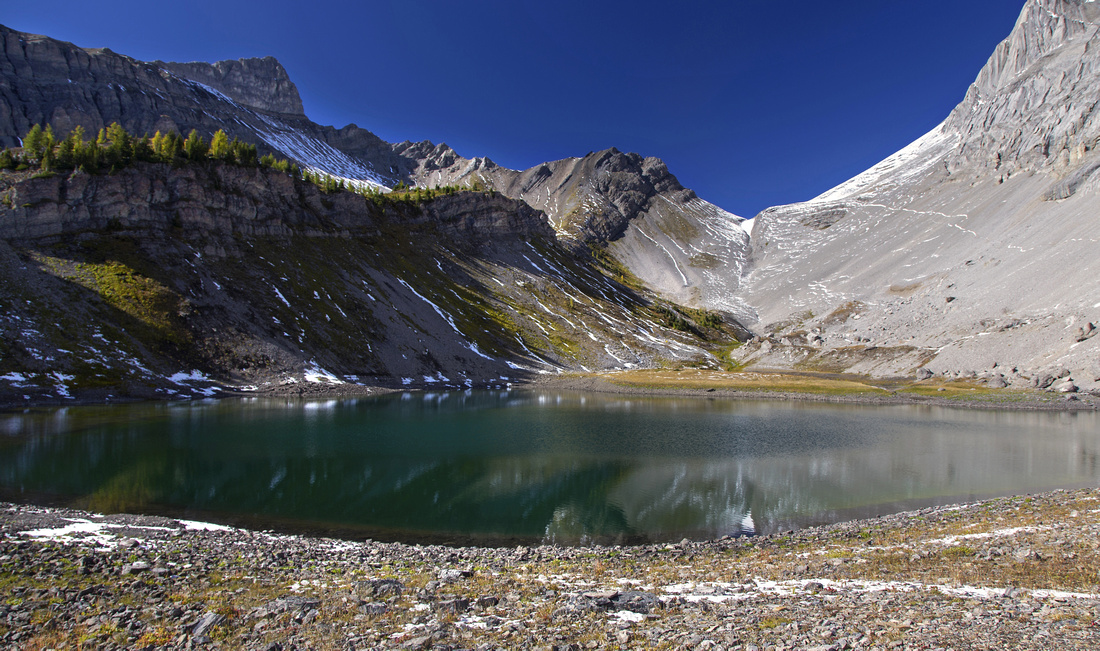 Hiking by Birdwood Tarn. Mt. Smutwood upper left
Upper Birdwood Tarn - fantastic photo op in mid-afternoon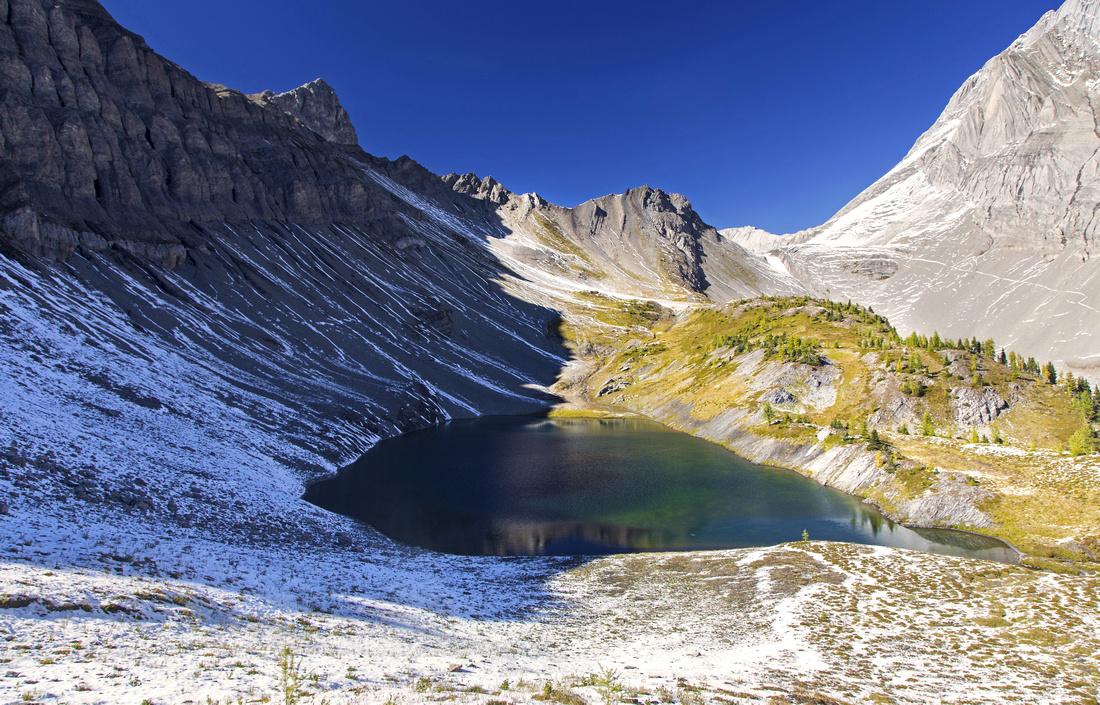 One more shot of upper Birdwood Tarn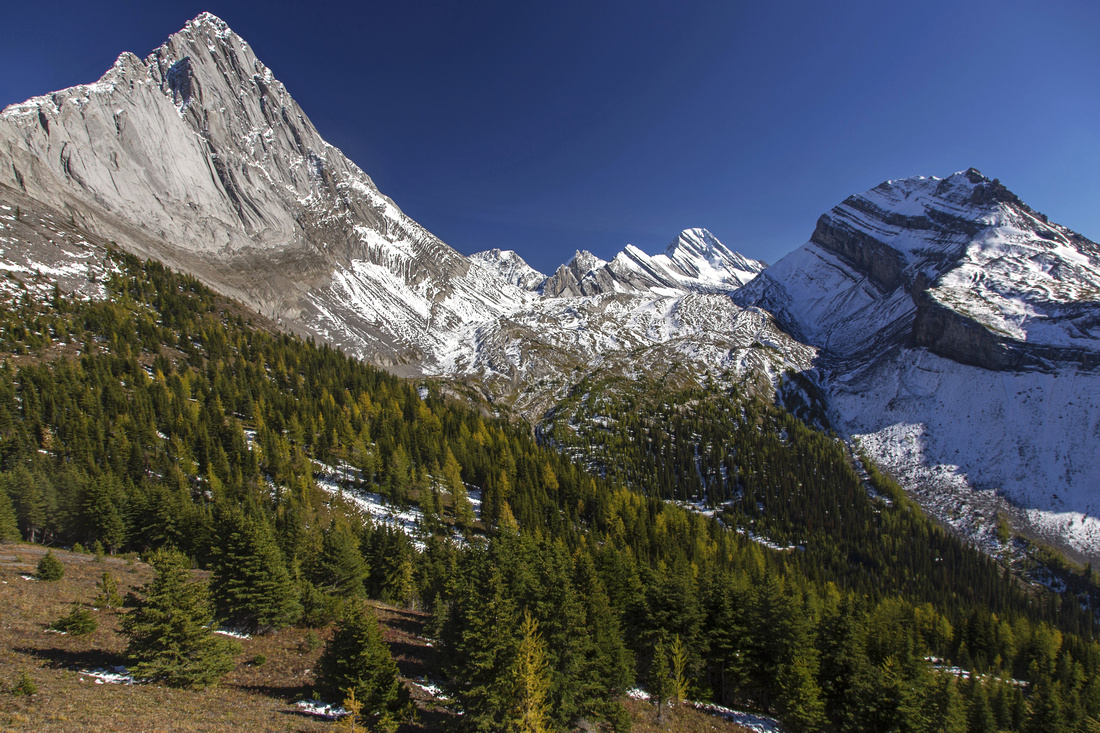 Birdwood/Burstall Pass area from start of Smutwood Ridge
View down to Birdwood Tarns from start of Smutwood ridge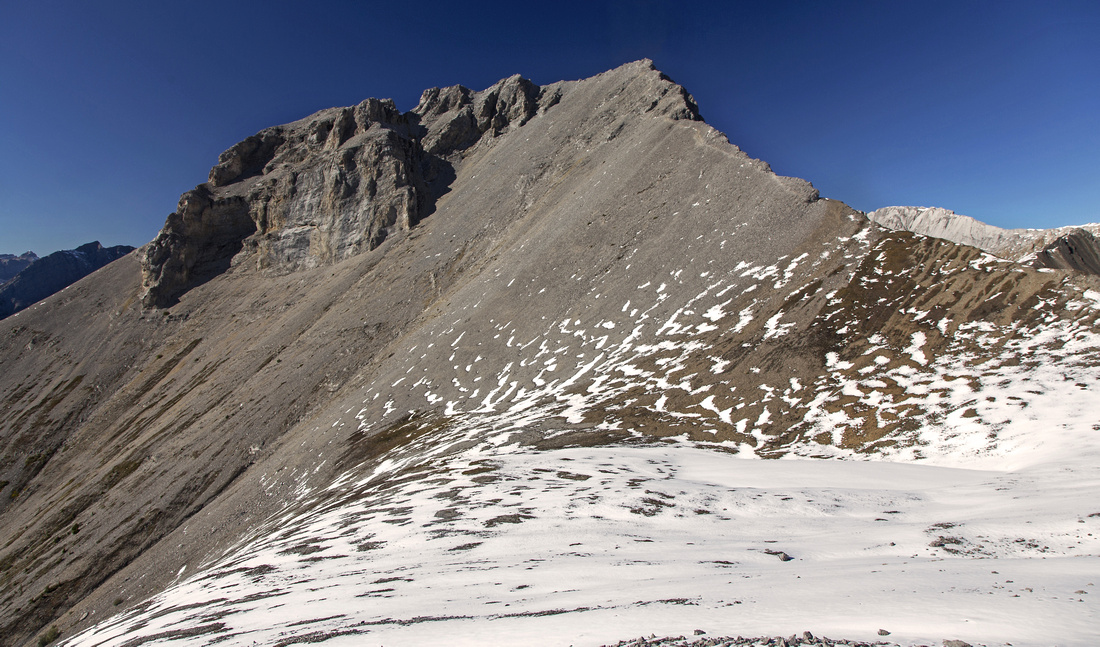 Final part of the ridge just past the lower sub-summit
Views west from the summit. Nub center left is lower
View to alternate Mt. Smuts descent route
Mt. Birdwood from the summit. Smuts Pass far center left
Zoom on Sir Douglas and Burstall pass environs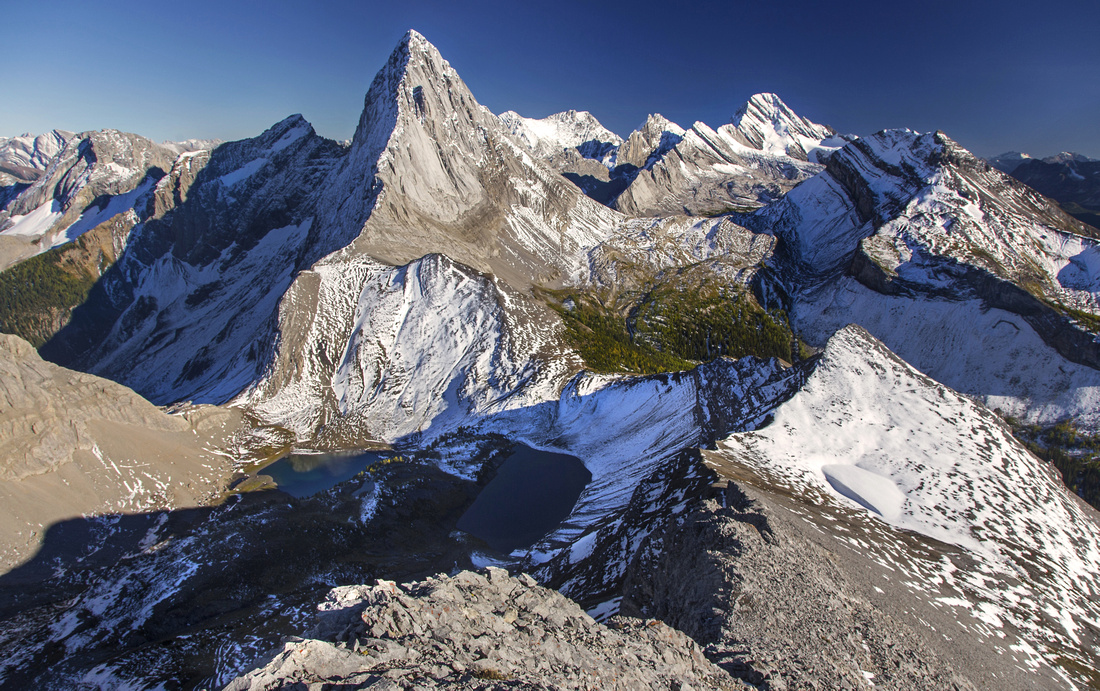 Entire length of ascent ridge from Smutwood summit
Mt. Smuts reflected in upper Birdwood Tarn on descent
Overall Difficulty
D5

Trail hiking in Commonwealth creek valley with some muddy and rooty/bushy parts. Steep ascent to Smuts Pass. Easy scramble on Smutwood south ridge with few minor rock steps. Lose talus slope just before the summit.

Snow Factor
S3/4

Avalanche danger on Smuts Pass approach. Trip is likely too long for snowshoes, but fantastic as ski ascent

Scenery

Except for initial logging road walk, this is exceptionally scenic trip throughout! Commonwealth creek waterfall, meadows below Fist/Smuts, Birdwood Tarns at Smuts Pass are some of highlights on approach. Summit view is easily one the best in K-country

Trail/Marking

Good

Unofficial, but easy to follow trail to Smuts Pass with one confusing part. Off-trail Smutwood ridge alpine ascent

Suggested Time

8 hrs

Round trip returning the same way. Add 1-2 hours for alternate loop return via Burstall pass

Elevation

Start: 1870m Max: 2690m Total: ~1000m

Round Trip: ~21km

Gear

Full hiking boots preferred. Ski poles very helpful on lose parts of final lose parts.

Water

Commonwealth creek and Birdwood Tarns. Ridge is dry. Carry ~ 1.5 - 2L

Dog Friendly

Yes

Standard back-country travel precautions. Grizzly bears sometimes frequent Commonwealth creek valley