Panoramic View of Gargoyle Valley on descent from Cory Pass. Mt. Louis center
Trip Summary
July 12, 2019
Loop trail that links Cory and Edith Passes traversing secluded Gargoyle Valley below Mt. Louis is one of best in Banff vicinity. It has been documented in several editions of Patton/Robinson Canadian Rockies Trail Guide. Cory Pass trail also serves as approach for Alan Kane scramble up 3 peaks of Mt. Edith, while Edith Pass Trail is climber access to Mt. Louis. Loop can be hiked in either direction; most guidebooks and personal opinions favor the clock-wise direction and this is how the trip is presented on this site too. However in my opinion CCW (Edith Pass first) is way better; reasons, that will appeal specially to photographers, are specified in the gallery.
Parking is at Fireside picnic area, just off 1X (Bow Valley Parkway) few km west of Banff - turn right at first side road past Trans-Canada exit. Reach marked junction in ~15 minutes (lovely aspen forest here!) and decide if you want to do CW or CCW loop. Turn left and up for Cory Pass. Next part is quite steep but not too bad and there are several lovely grassy open areas looking back to Banff area. Topping up hike through mainly level semi-forested ridge to crux downclimb -- semi exposed rock rib here caution and good balance is required. It is not difficult, but potential for fall exists if slippery or icy. Past the crux trail traverses open gullies below Mt. Edith and ascends to the pass -- approximately 3 hrs of moderate pace from Fireside parking.
Dropping on the other side of Cory Pass to Gargoyle Valley is initially tricky on steep talus, but majestic scenery that unfolds below you will grab you and make forget pain that started accumulating in sore muscles. Do not rush this part - it is more than worth savoring. Path beaten in scree contours on the skier right side and descends to the boulder field at mouth of Gargoyle Valley. Becoming less defined here, it turns left and aims for the forest -- look for orange sign stapled on tree marking the point where you pick-up Edith Pass trail. Make sure you look back at this point -- view of Mt. Louis towering above is one of most awe inspiring in the Rockies!
Except for initial 20-30 minutes when trail traverses some open terrain with great views of Cascade Range and Forty Mile Creek valley, Edith Pass trail is in the forest and mostly unremarkable. Easy to follow (turn right at only -signed- junction) and march back in valley sandwiched between Mt. Edith and Mt. Norquay back to Cory Pass junction and Fireside Parking.
Mt. Edith Scramble
When I climbed these peaks I still did not carry the photo camera, or document my trips. Details are well described in Alan Kane guidebook, as well as several personal online sites -- check proverbial Spirko site, by far the most accurate of them all. From my own memory, the trickiest part is actually traversing / jumping over the gap just before North Peak - far more serious than guidebook suggests with potential for serious accident. Middle peak is easiest, but descent from middle to col below South is very lose (don't even think going there without helmets). South peak is probably the most difficult, but not too bad -- comparable to The Tit above Canmore. Descent from Middle / South col to Cory Pass trail is steep but generally straightforward; bypass cliff band just above the trail on skier left side.
Gallery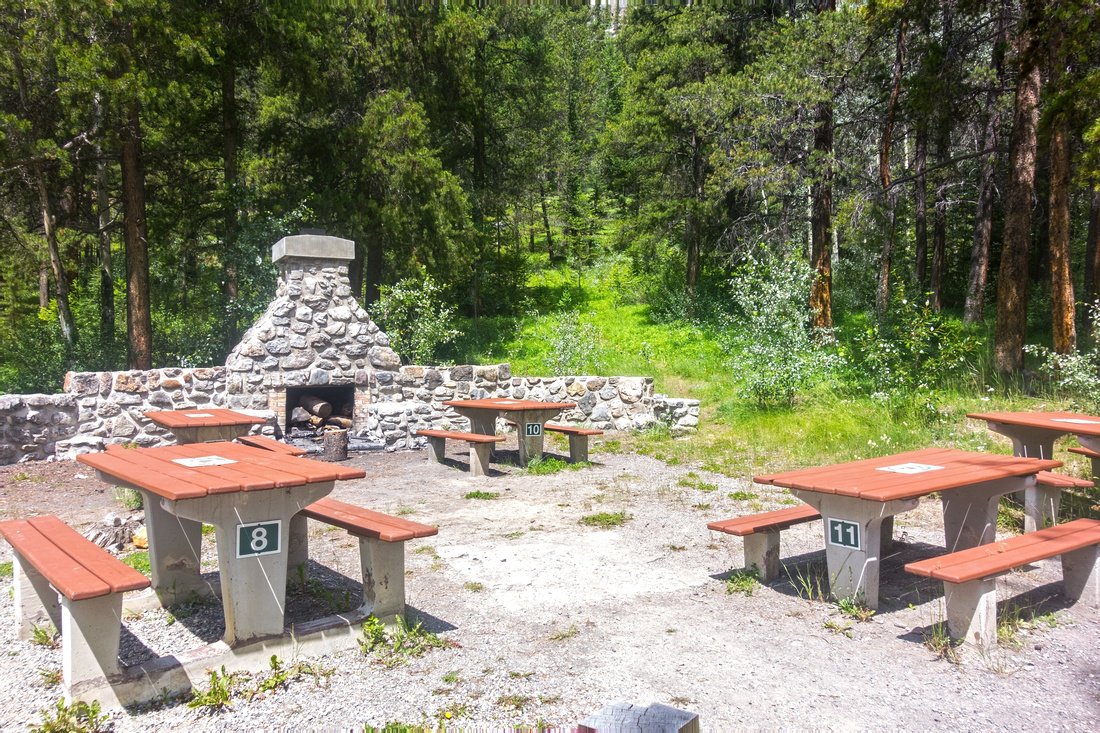 Fireside Picnic Area near the Parking. Signed Trailhead is few meters to the right
Hiking initial part paralleling the highway towards Edith/Cory junction (pic from Oct '18 trip)
Cory/Edith junction ~15min from Fireside picnic area, looking up Cory Pass trail. Edith Pass trail continues to the right.
Looking back towards Vermilion Lakes and Mt. Rundle from lower part of Cory trail (Pic from Oct '18 trip)
Another shot of Vermilion Lakes / Mt. Rundle from grassy clearing ~100m above Cory/Edith junction. Pic is from Oct '18 trip and one of main arguments why CCW loop with Cory side descent might be preferred - you don't get these kind of light conditions in the morning! Incidentally this is also awesome spot to come just for photo shoot during sunset; it can be hiked in ~30mins from Fireside.
Looking up the valley between Mt. Edith and Mt. Norquay, hiked on return leg of the loop. Treed Edith Pass in the distance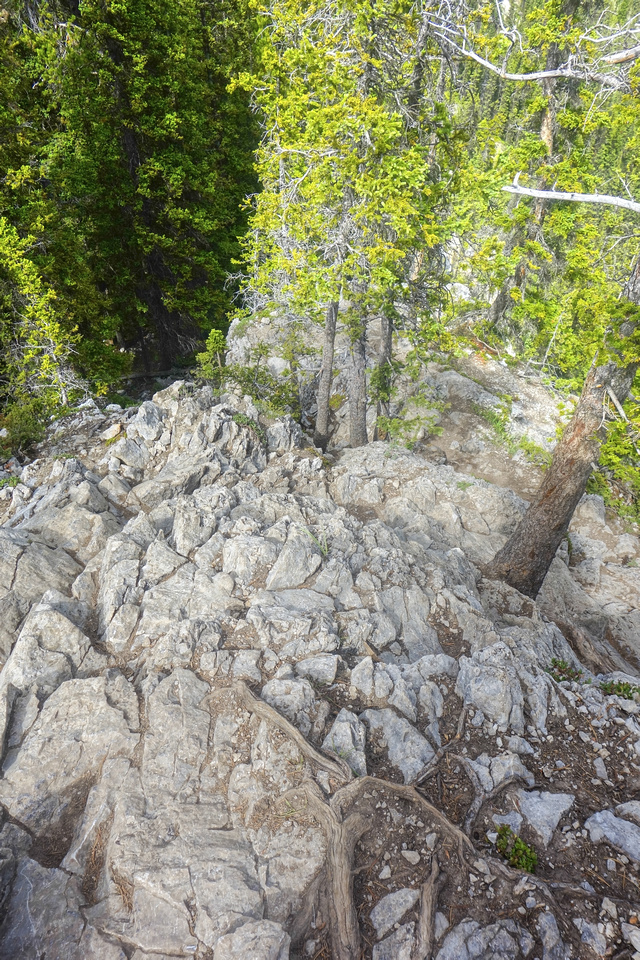 Crux downclimb on Cory Pass trail. While not difficult, it can be tricky if trail is snowy or icy. This is second argument for CCW loop - always easier to climb than descend terrain like this
Bad HDR shot against the sun showing bottom part of the downclimb. Note orange hiker sign on tree above
Looking back Cory Trail traversing steep slopes below 3 Edith Peaks (out of picture to the left). Most of ascent line can be traced at this point. Crux downclimb distance center (just left of that pine tree); rounded ridge to the right is where you clear steep first part of the hike
Approaching Cory Pass (left of center), showing one of several talus gullies that must be crossed. Steepness of terrain in this part is key reason why it would be bad idea to hike this in winter -- serious avalanche danger
Cory Pass, looking up scramble route up North peak of Mt. Edith (top center)
Windswept gap of Cory Pass with stubborn snow patch that lingers till mid-summer. Trail drops steeply to Gargoyle valley on the other side.
Steep and awkward descent into Gargoyle Valley. Hiking poles are great asset here. This is third argument in favor of CCW loop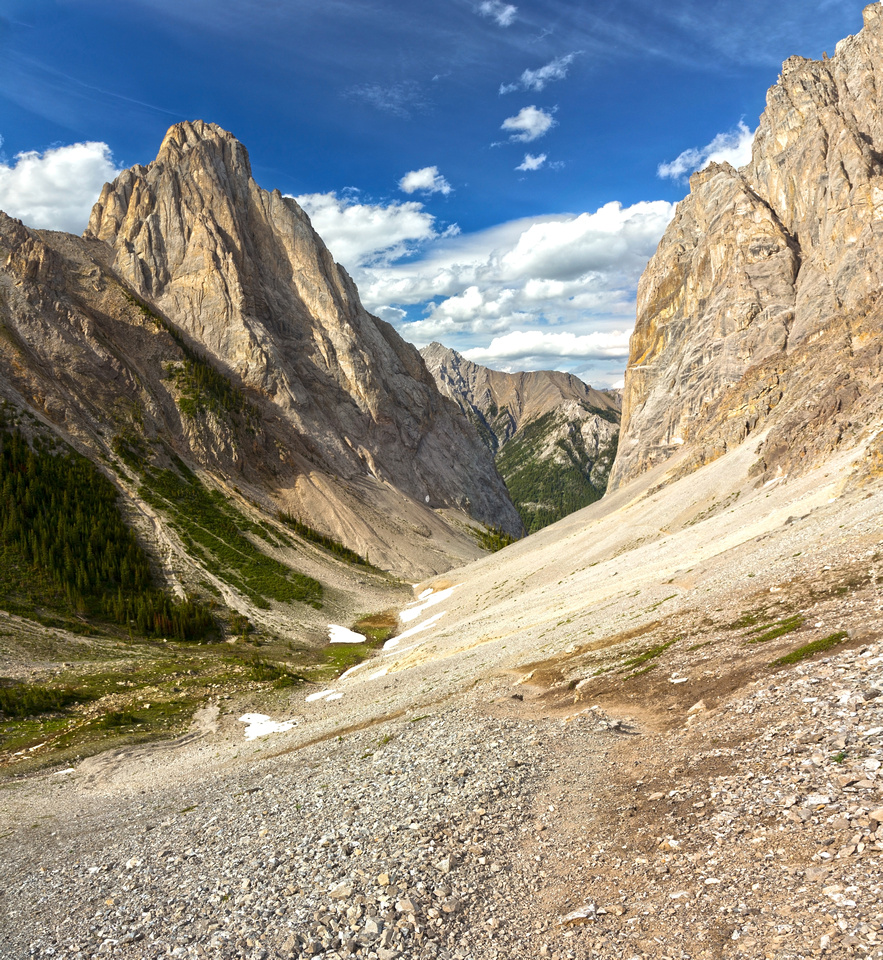 Majestic Mt. Louis and more than adequate reward for the effort. One of most sought after rock climbs in Canadian Rockies, first ascended in 1916 by Conrad Kain and Albert MacCarthy
Looking back to Cory Pass (left) from lower part of Gargoyle Valley. Wide talus gully on the right side might be used as optional descent from Mt. Cory, should one be able to drop to obvious saddle. Meadows in lower right might be good bivi spot.
Approaching boulder field at Gargoyle valley mouth; trail becomes less defined here. Mt. Brewster through the gap in the distance.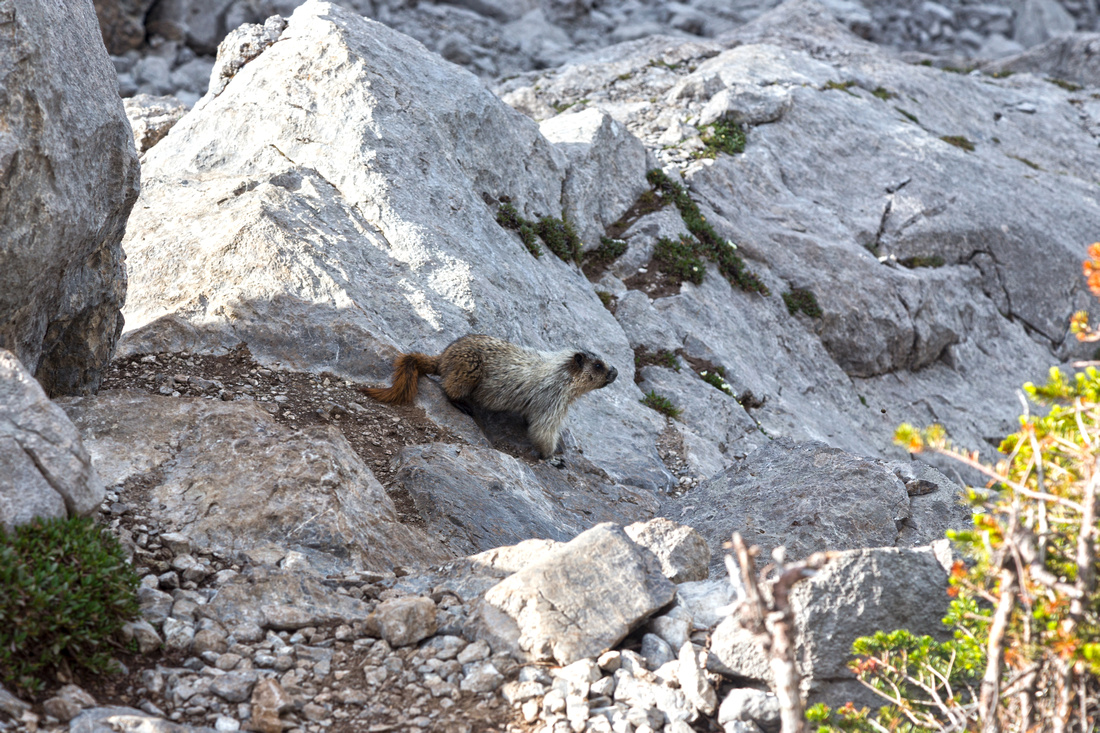 Large marmot going about his business in aforementioned boulder field
Several trails branch in talus past the boulder field, some of them made by mountain climbers aiming for Mt. Louis. Watch for orange marker on tree in distance center right, indicating where Edith Pass trail emerges from the forest.
Good view of Mt. Brewster, included in 3rd -and likely last- edition of Kane Scrambles. Long day including arduous approach via Forty Mile creek starting at Mt. Norquay parking, ending with tricky route-finding in steep gullies according to some online reports.
Hiker sign marking point where Edith Pass trail enters (or exits from) the forest. Initially rocky and rooty.
Last view of Majestic Mt. Louis. Bad photo as sun is in front of you in the afternoon; Yet another argument for CCW loop, as this surprise view is one of most spell-binding in Canadian Rockies if you are here in mid to late morning.
Panoramic view east as trail traverses open slopes below Mt. Edith. Mt. Norquay right, Cascade range distance center, Mt. Brewster left
Descending towards Edith Pass (in the forest lower right). The pass itself is view-less and unremarkable; you are likely to miss it as it is not marked.
Overall Difficulty
D4/5
Significant elevation gain with some rough sections. Class 2/3 rock rib (dowclimbed if ascending via Cory Pass) - tricky if icy. Loose talus below Cory Pass and parts of Gargoyle Valley
Snow Factor
S5
Severe avalanche danger on upper part of Cory Pass trail, and in Gargoyle valley - not suitable as winter trip
Scenery
Secluded Gargoyle Valley and amazing Rock Scenery. Awe inspiring views of Majestic Mt. Louis. Great views of Vermilion Lakes/Mt. Rundle from lower part of Cory Pass trail
Trail/Marking
Good
Official Parks Trail with marked junctions. Becomes less defined in Gargoyle valley with couple of boulder field crossings where cairns mark the way
Suggested Time
7hrs
Return time for full loop (regardless of direction). If going just to Cory Pass and returning the same way 5-6 hrs. Add ~2 hrs if scrambling Mt. Edith
Elevation

Start: 1460m Min: 2330m (Cory Pass). Total: ~1000m

Round Trip: ~15km (full loop)
Gear
Full hikers with good ankle coverage essential. Hiking poles very helpful on steep descent into Gargoyle Valley from Cory Pass. Micro-spikes an asset in shoulder season if trail is icy.
Water
Seasonal seepage gullies from snowmelt on upper part of Cory Pass trail that dry by mid-summer. Small forest stream on Edith Pass trail, but otherwise fairly dry hike (no water in Gargoyle Valley). Carry ~2L minimum on a hot summer day
Dog Friendly
Yes
Standard back-country travel precautions.