Coliseum - Burwell ridge from Paton Lookout
Fantastic North Shore back-country destination, and trip worth doing over and over. It does not come cheap - access to beautiful alpine ridge system is very strenuous and requires high level of stamina. Two approaches, both described in excellent Matt Gunn "Scrambles in Southwest BC" , are possible. Recommended, but still less frequently used, "Bike and Hike" uses paved LSCR Pathway for 9km, followed by very steep trail over Seymour Valley Lookout (or Patton Lookout) to Norvan Pass and junction. Traditional, "hike only" option utilizes Headwaters Trail starting from top of Lynn Valley road, followed by rough ascent to Norvan Pass at north end of Lynn Needles and junction with LSCR approach. Remainder of the trip is identical for both alternatives. Area lies in Seymour watershed and overnight is not officially allowed. This rule is not always followed and groups sometimes use very photogenic tarn just west of Mt. Coliseum as bivi area. Other alternative that offers reliable water source is Cornett Lake reached by descent on Coliseum north side. It is worth nothing that both LSCR and Lynn Valley parking lots are locked overnight; if your vehicle is found past hours, North Shore Rescue will be notified. If you are planning staying late leave the car outside the gate.
Some day-hikers turn back at Coliseum, but connecting ridge to Burwell is real highlight and despite rough appearance fairly easy. Several other extensions are possible, including visit to west Burwell. Extremely fit hikers have also accessed the area via rough, but flagged, route from Lynn Lake -- see this ClubTread report. Main prize is however infamous Cathedral - rugged peak seen from several vantage points in Vancouver, and extremely hard to get to. See bottom of this page for more discussion.
---
LSCR Approach via Patton Lookout
Download GPS Track

Follow Lilloet road past Capilano college and gate to LSCR parking lot. Note posted gate closure times! Cycle 9km of paved gently rolling Trailway (~40 minutes). Just past 9km marker and few minutes before junction with Seymour Dam utility access road note rough road on the left (west) side; this is the way to go. This road ends in a quarry in about 1km. Some people cycle up, but it is probably better to save energy and walk up (remember to lock your bike out of view!). Trailhead will be on right side of the quarry and used to be flagged. Well defined, but quite steep trail climbs with little respite to Patton Lookout - about 1:45hr, depending on your pace. Couple of rough spots are assisted by ropes. Bypass trail forks left few minutes before the lookout, but if you are first time here it is well worth continuing up as lookout offers fantastic viewpoint (lead photo on this page) and is nice spot for a break. This would also be great "bike&hike" destination on its own. Coliseum and Burwell can be seen above, and even Cathedral doesn't look that far -- don't be fooled! On the other side, Seymour lake, source of Vancouver drinking water, looks amazing as well as Mt. Bishop above. From the lookout drop west over granite slabs following flags and intercept bypass trail, then continue traversing over fairly rough terrain, before turning left and ascending on edge of boulder field to Norvan pass and junction with Lynn Valley trail. For most hikers it will take at least 3 hours to here from "Patton Trailhead" at LSCR quarry where you left the bike.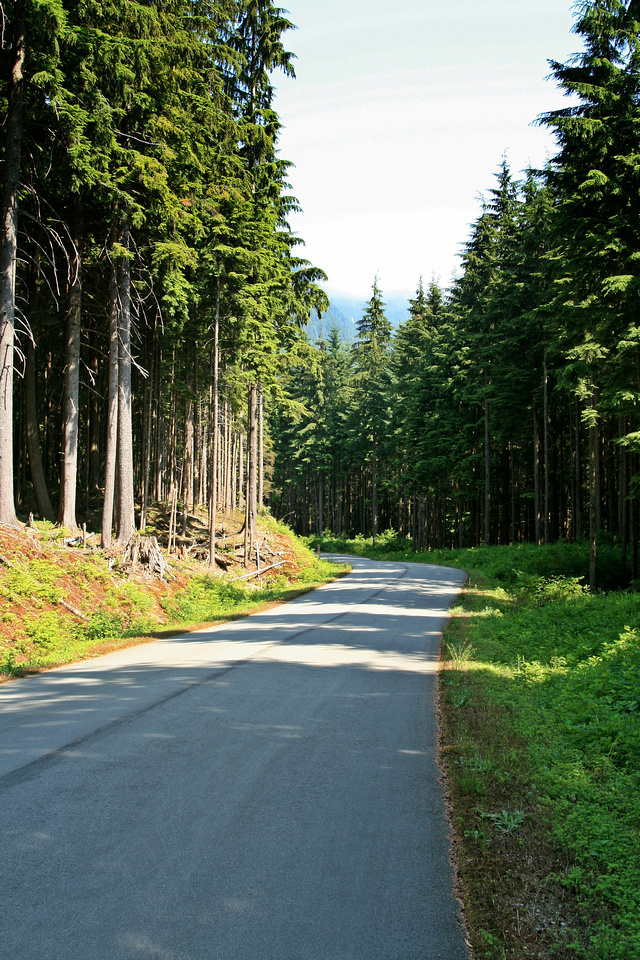 Cycling paved LSCR Pathway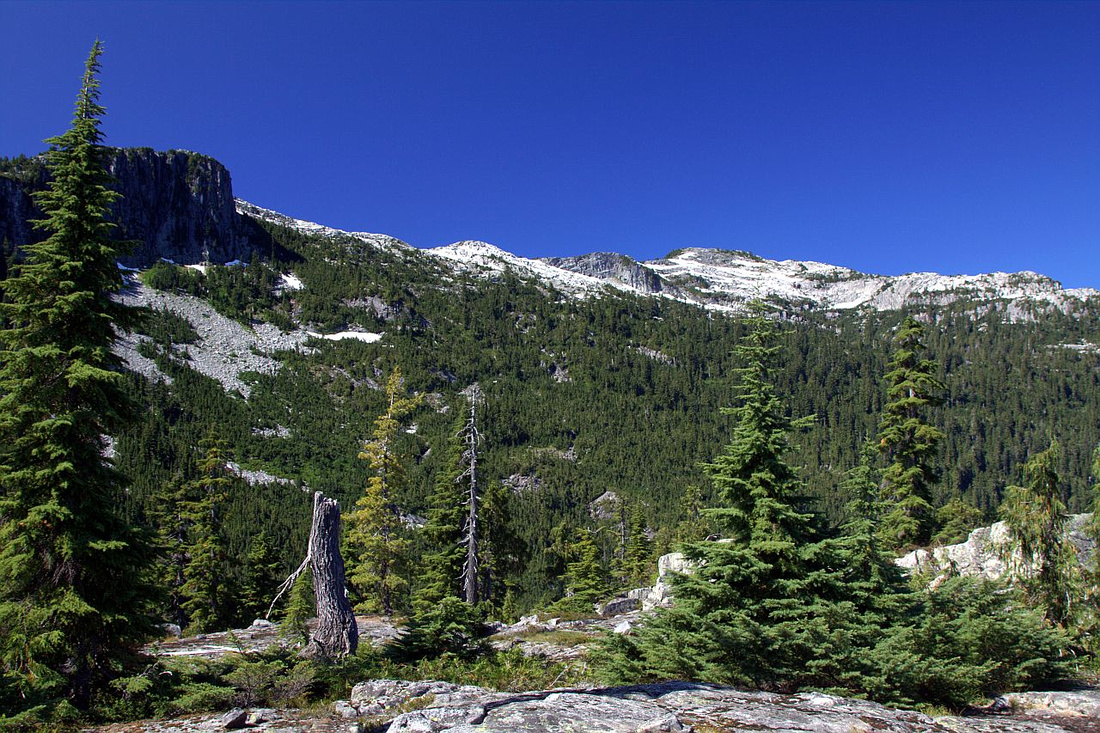 Reaching Patton Lookout -- great day trip on its own -- after 1:45 - 2hrs of very steep ascent from LSCR
Cathedral from Patton Lookout. It even doesn't look that far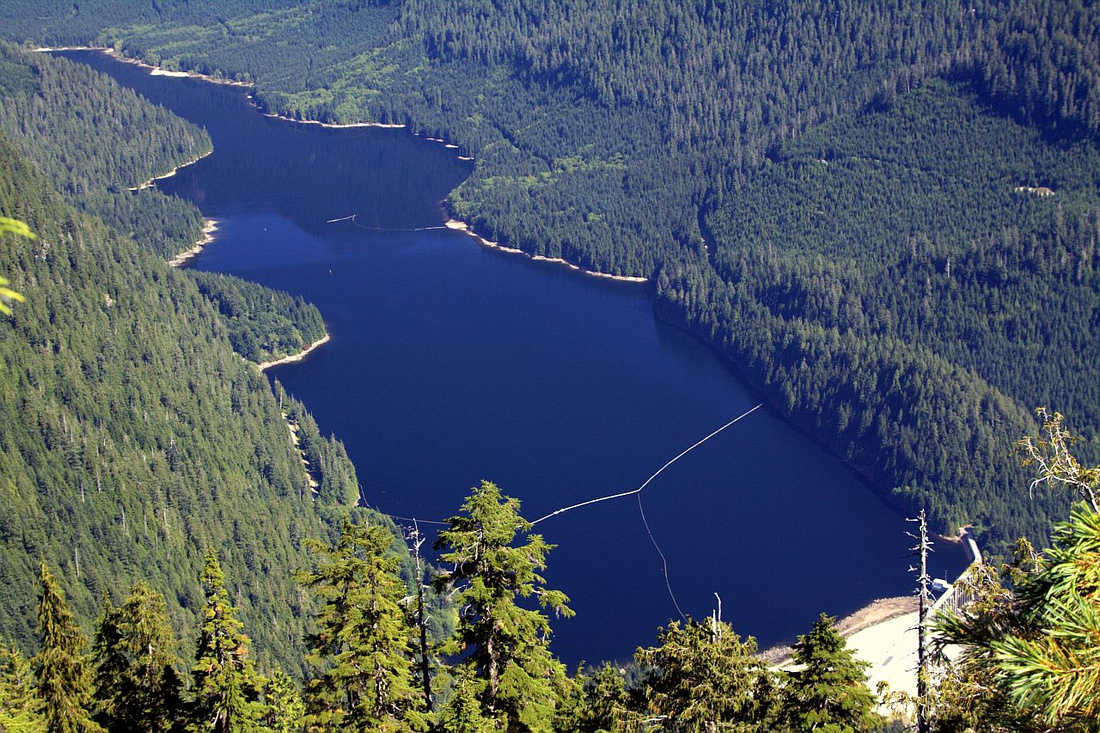 Seymour Reservoir ("drank by many, seen by few") from Patton Lookout
Springtime ascent on snowy slopes above Patton Lookout (upper right) to Norvan Pass and junction with Lynn Valley approach
---
Lynn Headwaters Approach
Download GPS Track

Park at top of Lynn Valley Road. Parking can be extremely hard to find, so you might have to leave the car lower down the road or even in front of the gate. Note posted gate closing times! Cross the bridge, and follow easy and wide Canyon trail for ~4km, then transition up to Headwaters Trail at 3rd Debris Chute washout. This section has some pretty nice old growth forest. Follow more rough trail for another ~3km to signed Coliseum Mtn. Junction (~1.5km of fast pace from parking). Very little elevation has been gained to this point, so it is good spot for a break - perhaps by Norvan Falls, 5 min side trip where also water bottles can be filled. Trail climbs steeply up and is flagged. After about an hour grade levels and several rough gullies need to be crossed, following by moderate approach to "Norvan meadows". Meadows are definitely a stretch here - just semi forested rock slide below Lynn Needles. This section is often quite boggy & tree stumps help not getting the boots too muddy. Trail steepens again after crossing the creek and tops on Norvan Pass just north of Lynn Needles; turn left. (Rough trail on the right side leads to very difficult Needles Traverse). Junction with LSCR/Patton approach is reached in another 30min, roughly 3 hrs of moderate pace from Norvan Falls.
Trail kiosk at top of Lynn Valley road
Beautiful wood bridge on Lynn Headwaters Trail halfway between 3rd debris chute and Norvan Falls
Coliseum Junction. Trail is closed in winter by GVRD. In dry conditions posted times are somewhat exaggerated
Norvan Falls - brief side trip near Coliseum Junction
Boggy section approaching Norvan Meadows
Norvan Meadows. Trail resumes ascent and switchbacks steeply past this point to junction with Patton approach
Patton / Headwaters junction. Remainder of the ascent is same for both approaches
---
Beyond Lynn/LSCR junction Coliseum summit is still 45min-1hr away. Immediately comes the rough step - stiff scramble up a bluff assisted with tree roots. This spot is quite a pain on descent with already sore muscles. Trail then exits to sub-alpine and traverses couple of valleys before reaching granite slabs below Coliseum summit. This spot can be well seen from Vancouver. Watch for some rock paint identifying the easiest route up to 1441m Coliseum summit. Alternatively, if you are on a "mission" (Cathedral maybe?) you can bypass on the left (south) side and go directly for tarn. Connecting Burwell ridge is ahead and you are pretty much in the open now. It is easier than initial survey might suggest, stay generally in the middle. Halfway there is bit of odd ledge scramble but nothing difficult. Finish with already sore muscles on moderately steep rise to large Burwell summit cairn and well deserved break!
Burwell summit is simply outstanding viewpoint. Peek west for bird-eye view of Palisade Lake (sometimes accessed from Capilano watershed). Descending slightly north one can also spot Burwell Lake; it looks equally amazing, but would be quite tough to get to. Scramblers will probably spend most of summit break studying route up Cathedral almost teasing you directly across. It looks so deceptively close, but according to some online sources getting to Burwell is only halfway (!). See bottom of this page for further discussion. Return the same way, depending on your approach. If you parked inside the gate you will probably be constantly looking at the watch, which will not feel too good for already sore muscles.
Cairn at 1441m high summit of Coliseum Mountain looking SE. Needles ridge center right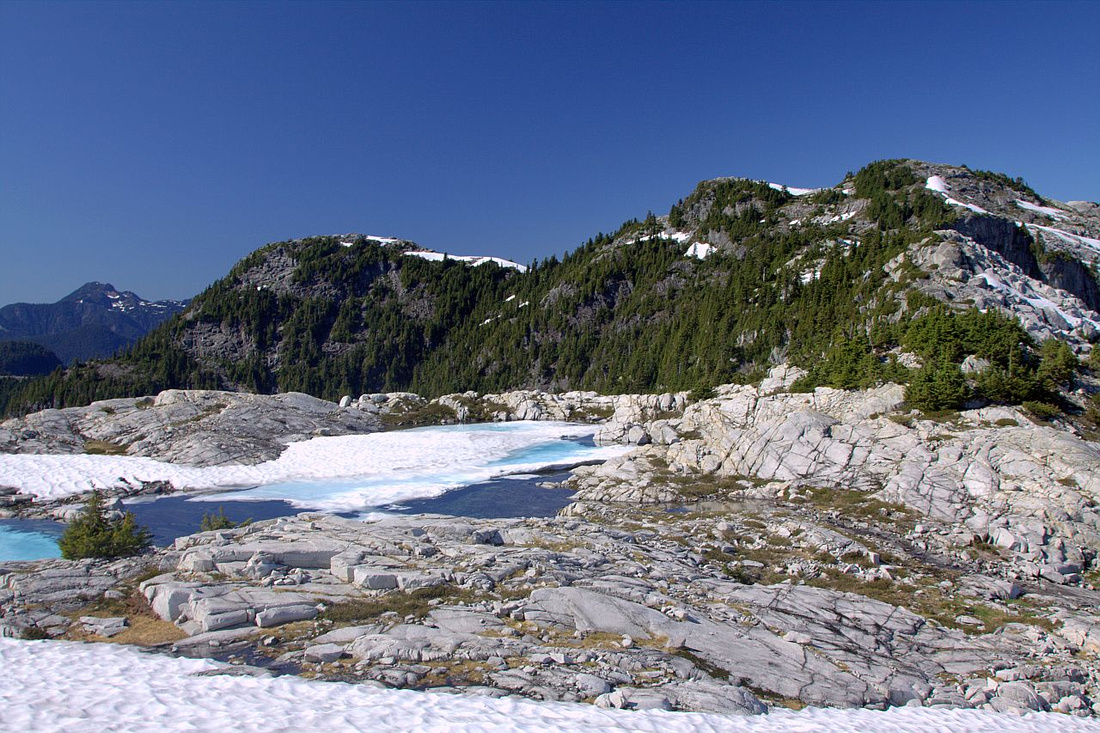 Dropping on west side of Coliseum with connecting Burwell ridge upper right. Tarn center left is great overnight spot, or even just to cool yourself off on a hot summer day
Heading towards Burwell, ~40min from Coliseum. Despite what appearance might suggest, connecting ridge is quite easy. Cathedral upper right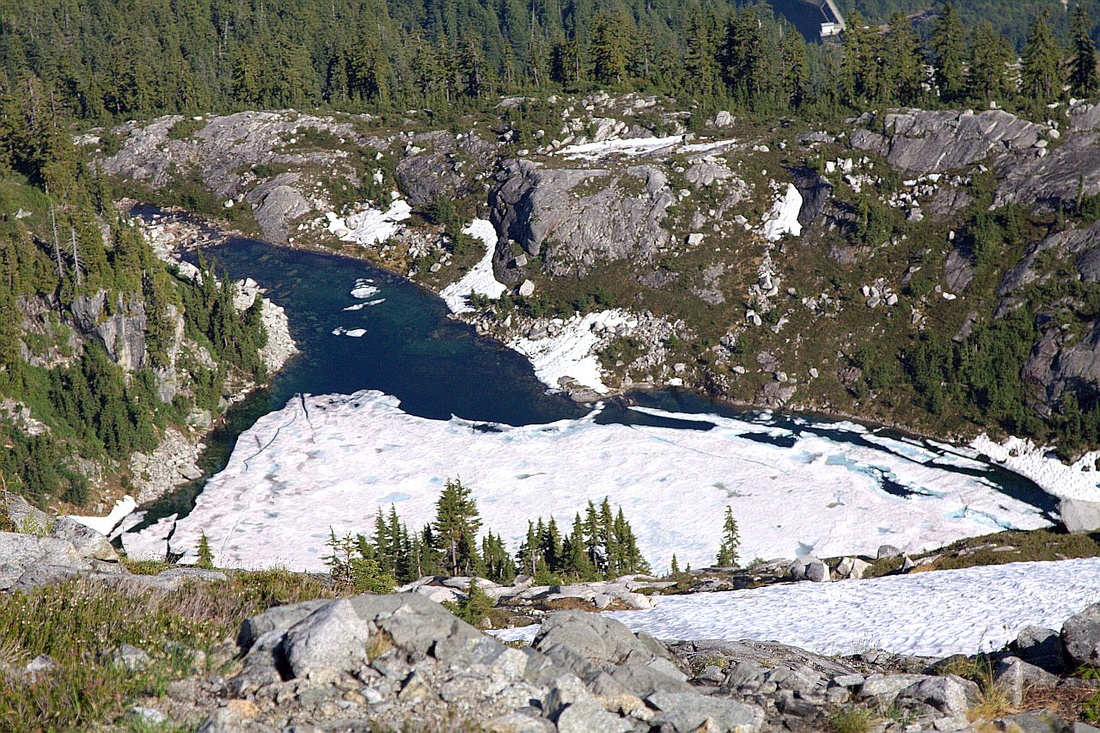 Cornett lake on north side, still half frozen in September, reliable water source & potential overnight spot
Cairn on 1530m high summit of Mt. Burwell. Cathedral above looks deceptively close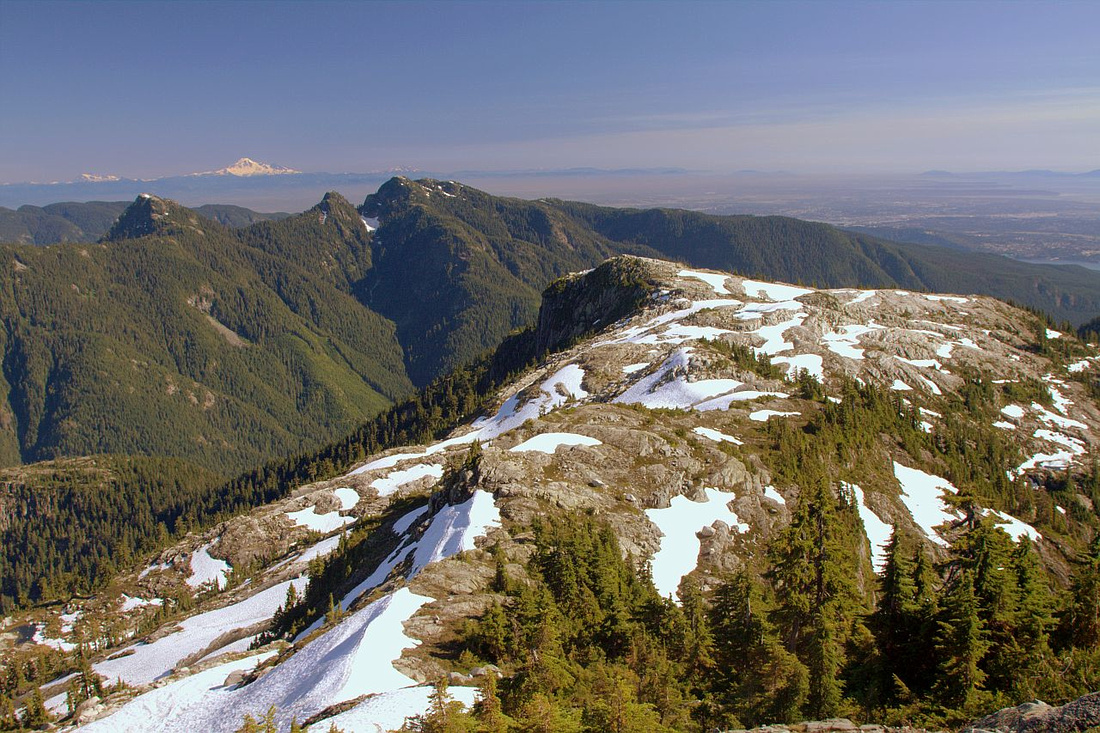 Looking back connecting ridge to Coliseum from Burwell summit. Seymour group (Mt. Seymour, Runner, Elsay) behind
Cathedral route from Burwell summit. Drop to saddle below is not straightforward despite appearance as several bluffs need to be negotiated.
Abstract
Overall Difficulty
D6

Steep and rough route with considerable distance and elevation gain. Several scrambly sections assisted by ropes

Snow Factor
S4

Challenging in winter conditions because of short daylight. Ice-axe suggested. Lynn Valley options is better as north side above Patton lookout might be avalanche prone.

Scenery
Classic North Shore territory. Spectacular alpine views from Coliseum-Burwell ridge, including Cornett and Palisade lakes and many distant peaks of Sea-to-Sky corridor
Trail/Marking

Fair

Easy valley approach for both alternatives, followed by rough by flagged routes. Trail disappears in alpine above Norvan Pass and requires some micro-terrain route finding
Suggested Time

10-11 hrs

Depending on approach and trail conditions. LSCR option is at least 1hr shorter.

Elevation

Start: 210m Max: 1530m Total: ~1500m

Round Trip: 31km (Lynn), 33km (LSCR, incl. cycling)

Gear

Full hiking boots are highly recommended (ankle stability - rough terrain). Hiking poles are essential. Spikes and even Ice axe suggested for winter ascents

Water

LSCR approach offers no reliable water source. Lynn and Norvan creeks for Headwaters approach. Seasonal tarns in the alpine. Carry min 3L in summer

Dog Friendly

No

Dogs have made it, but overall length/terrain are quite rough. In addition area lies in watershed, so better to leave pets at home
I have not climbed Cathedral personally, but here is what I know from second hand info gathered over the years:
Logistics: Day trip will not be feasible for most people, although it has been done. Start very early if you plan on trying. It is much better to overnight (by Coliseum tarn or Cornett lake). Main reason - you give yourself better chance of success, as you will be rested and have a full day ahead.
Timing: Spring ascents can benefit from compact snow that makes drop to Burwell saddle much easier, however there is strong possibility of moats further up that might turn you back. Personal preference would be mid to late summer
Water: No reliable water source past Coliseum tarn. Seasonal snowmelt only
Route: Initial part is drop to Burwell saddle; loss of ~350m vertical, and it is not straightforward as several bluffs not seen from above must be negotiated, generally by traversing left. Heavy bushwhack after the saddle & GPS is essential, although flags help. Trash up initially then traverse first boulder field which will be on your right. Aiming generally north traverse second boulder field to west side of Cathedral. Do not head straight up from second boulder field even if it might appear feasible; people have been cliffed out. After more trashing reach steep gully coming off Cathedral south ridge. Scramble up this gully then turn left on the ridge. This bit is the most difficult. Final part is flagged and has one rough patch through dense bush to climber right of impenetrable granite bluff.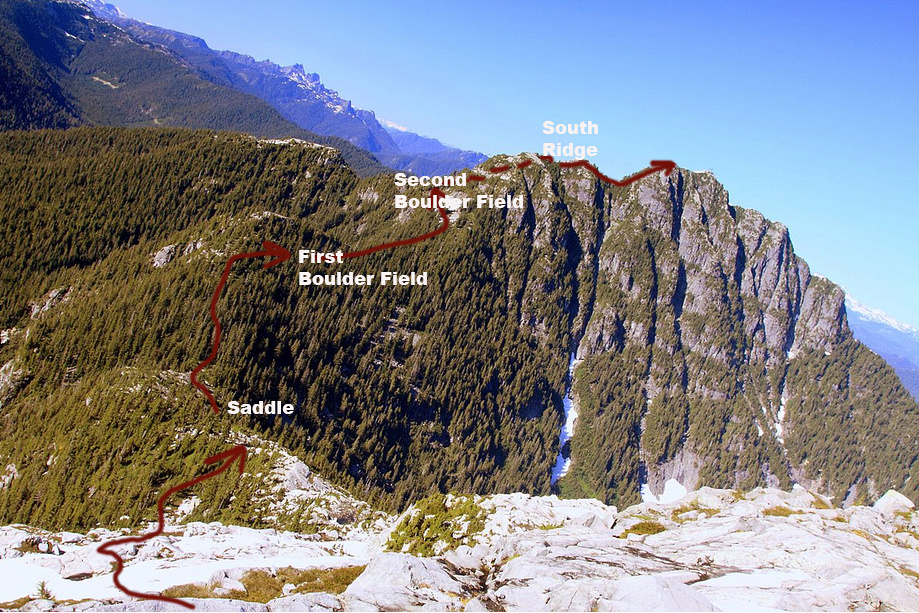 For more beta check out this, this and this report posted on Club Tread